California Services
We have 36 years utility & supplier experience
Electricity Services
We utilize 6 Electric Service Providers (ESPs) in CA
and provide the "best" competitive rates in CA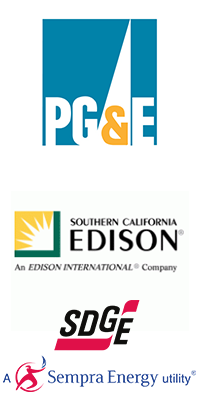 Direct Access is a CPUC authorized electricity program, promoted by SCE, PG&E and SDG&E.
For
companies

served by PG&E–SCE–SDG&E and want to get into Direct Access.

There are 2 types of companies who purchase electricity from SCE, PG&E or SDG&E.

Direct Access companies save 10% to 35% off their utility's "generation" charges.

Companies NOT in Direct Access pay the utility's highest generation costs.

Current companies in Direct Access include:
The entire UC University System (9 campuses)

Most California hospitals and medical centers

3500+ other companies (large & small)
Here are examples of Direct Access savings:
A tubing manufacturer saves over $800,000/year.

A hospital group saves over $450,000/year.

A small plastics manufacturer saves over $24,000/year.

A large food processor saves $180,000+/year.
All of these pay 10-35% less for electricty than those still on normal bundled rates.
"Allowing more businesses but also residential electric utility customers to choose their retail power provider may soon be an option in California."
—Mr. Mike Picker, California Public Utilities Commission President
To be clear:
If your company is not in Direct Access . . . sign up for Direct Access NOW.
(It's the same electricity, with the same utility lines, services and reliability.)
Contact us and we will:
Lead you from "Start to Finish" into new Direct Access openings.
Provide the necessary forms and timelines for utility acceptance.
Provide excellent multiple supplier pricing when accepted.
There is a

sign-up deadline by mid-June 2017

. Please contact us TODAY!
Please see our natural gas and utility "demand reduction" savings shown below.
Contact us to learn more, obtain better price quotes, and reduce your energy spend.
Call Us
(805) 773-3762 x3
Natural Gas Services
We utilize
12

natural gas suppliers in California
and provide the "best" competitive rates in the state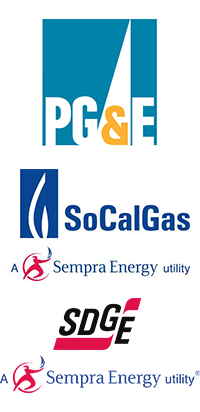 Both core and noncore natural gas transport programs are CPUC
authorized and promoted by
PG&E, SoCalGas, and SDG&E.
If your company is served by PG&E, SoCalGas or SDG&E, it's likely your company is paying way too much for its natural gas.
We know this because we . . .
Have 36 years of natural gas utility/supplier experience in California.
Work with 12 natural gas suppliers in California (core & noncore).
Also know the pricing of other groups and suppliers as well.
Savings Examples:
A metals fabrication plant saves $18,000/yr

A food manufacturer saves $40,000+/yr
Contact us for a brief consult and quote.
We can provide our historic NGI Graph.
We prefer working with supply loads of 5,000 therms to 50,000 dth/month.
We have BioGas Supply Available.
Understand the difference between biogas "displacement" and biogas "attributes" and the benefits/opportunities both present.
BioGas as a physical gas is used for transportation purposes.
BioGas attributes are separated from physical gas by producer at pipeline injection.
Companies purchasing these attributes, re-attach them to their gas supply for generation purposes or for attaining sustainability goals.
Physical Biogas:
We are taking orders for BioGas supply for transportation purposes.
Biogas Attributes:
We currently have BioGas attributes for sale.
1. 4,500 MMBtu /day – Available for purchase now.
2. 2,000,000 MMBtu – Available in Green Bank for immediate sale
Contact us to learn more, obtain better price quotes, and reduce your energy spend.
Call Us
(805) 773-3762 x3
Distributed Generation On-Site Power Generation
We work with (5) Manufacturers / Installers & DOE Technical Assistance Program (TAP) Providing Free Project Analysis
Distributed generation eliminates the cost, complexity, interdependencies, and inefficiencies associated with utility generation,transmission and distribution, while creating extreme savings.
Companies served by SCE, PG&E and SDG&E
Companies served by SCE, PG&E and SDG&E can combine Self Generation with Direct Access for extensive savings.
If your company is served by:
Anza Electric
City of Azusa
Bear Valley Electric
Burbank Water & Power
City of Anaheim
Burbank Water & Power
City of Needles
City of Riverside
City of Vernon
Colton Elecrtic Utility
Glendale Water & Power
Imperial Irrigation Dist
Lassen Municipal
Liberty Utilities
LA Dept of Water & Power
Merced Irrigation
Modesto Irrigation
Pacific Corp
Pasadena Water & Power
Plumas Sierra
Redding Electric
Roseville Electric
SMUD
Silicon Valley Power
Trinity Public
Turlock Irrigation
For all companies served by a utility shown on the left there are:
Tremendous Cost-Savings with Self-Generation
No "departing load" charges creates greater savings.
Cogeneration – CHP – Turbine Installations
Many manufacturers provide all the engineering, operational and economic studies and analysis, installation, as well as O & M for the life of the generation system:
NO Money Down.
Low Fixed Rate Power Purchase Agreement
When a company installs self generation, the unit is installed, operated and maintained by the Installer, so there no hands on experience is required by the buyer.
With the utility, a company is subject to utility rate increases for generation, transmission, distribution costs, as well as interruption in utility services.
With a Power Purchase Agreement the buyer knows what its future costs and reliability of electricity will be for years to come.
Bottom Line:
Electricity costs less with greater reliability.
Reduce High Utility DEMAND Charges
Bmark Energy works with energy storage companies:
Providing the best technology, predictive analytics and software platforms in the industry.
These batteries are installed at

NO COST

to your company.
They are installed with NO interruption in your company's operation.
They reduce demand and generation cost savings from day one.
Many companies are saving many thousands of dollars monthly.
The process is simple:
Contact Us
We obtain utility usage & interval data
We provide a proposal regarding estimated savings
Batteries and software are installed
All companies in California with demand over 100 KW benefit financially by limiting & reducing high demand spikes and high utility demand charges.
Southern California Edison's Local Capacity Requirements (LCR) Program = Greater Savings
(Typical savings is 10-20% off utility demand charges.)
Edison needs incremental capacity in the West LA Basin and needs suppliers to provide 1,890 MW of capacity to allow SCE to postpone large capital upgrades.
As a result, increased financial incentives are available now for companies to participate in this LCR program.
Best candidates are:
-Involved in Manufacturing – Food Processing – Commercial RE
-Those with large peak loads, non-solar, not involved in capacity Demand Response (DR) programs.
Lower your company's energy costs
Guaranteed positive customer economics
Precise customer savings analysis
No upfront cost with simple installation
The LCR demand Reduction Program is authorized by the CPUC & SCE.
Contact us to learn more, obtain better price quotes,
and reduce your energy spend.
Call Us
(805) 773-3762 x3