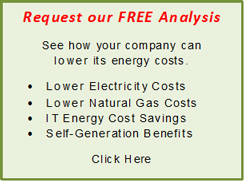 Our wholesale and retail supplier pools and market intelligence, gained from 30+ years of supply experience, provide your company with lower supply pricing options. Our energy options include:
The best energy supply rates-anywhere.

The largest energy footprint in North America.

Extended terms 1-10 year are available.
Natural gas rates are down. Coal is being squeezed. Renewable energy costs are up. Greenhouse gas and environmental taxes are increasing, pushing electricity rates higher. What are the options? 1) Do nothing and watch electricity rates rise. 2) Fix longer term natural gas and/or electricity rates in 2015. 3) Come off the grid, generate your own power fueled with low-cost natural gas. Contact us to improve your current energy position.
---
US Service Availability